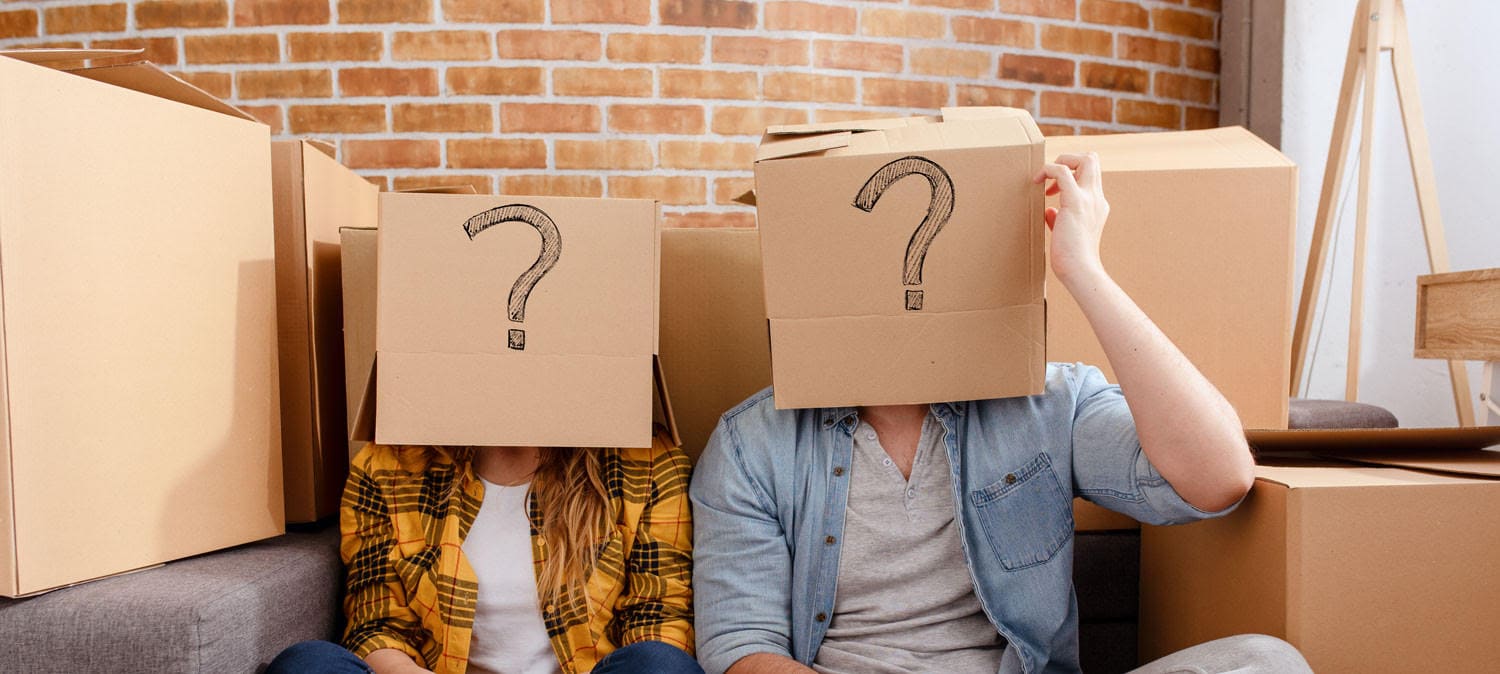 Whether you are just considering a move or in the thick of things, moving can leave you with a lot of questions at every step. We at Armstrong Relocation are here to walk you through the relocation process, starting by answering a few of your most frequently-asked questions.
When should I call a moving company?
Book a mover 6-8 weeks in advance when possible. Planning ahead and booking early are key to a successful move, especially if you are moving between May and July. Around 80% of all moves in the United States take place during these summer months, so booking early is critical if you are joining the millions of families moving at that time.
Planning a long-distance move also may take more coordination, so call a moving company as early as possible to prepare. We highly recommend booking early, but if your moving date is quickly approaching and you have not found the right mover, call Armstrong Relocation 800.288.7396 and we will do our best to accommodate.
What type of packing and unpacking services do you offer?
Armstrong Relocation can take care of the whole process for you as part of our full packing services, or you can ask us to pack only certain rooms or items. We offer full and partial unpacking services as well. Partial unpacking can include anything from setting up your bed frame and mattress to organizing your pantry.
What is a bill of lading?
A bill of lading is a legal document that recognizes the receipt of your items and acknowledges your formal contract with the mover to transport your belongings.
Your bill of lading should include details such as the name of your mover, their contact information, and the dates of your pick-up and delivery. On moving day, the bill of lading is signed by both parties. You will receive one copy and your movers will keep the other.
What should I do before the movers come?
Start decluttering in advance by checking your house for items you've forgotten about or items you know you don't want to bring into your new space. If you want an extra hand with your decluttering, Armstrong Relocation can help you store items and stage your home.
Don't forget to include your appliances in the decluttering process to ensure your fridge is clear on the big day.
Next, inventory your valuables and, if needed, work with your Armstrong personal Move Coordinator to get set up with additional coverage for your valuables. Save packing your toiletries and other essential items for last, and mark them in an easily-accessible box.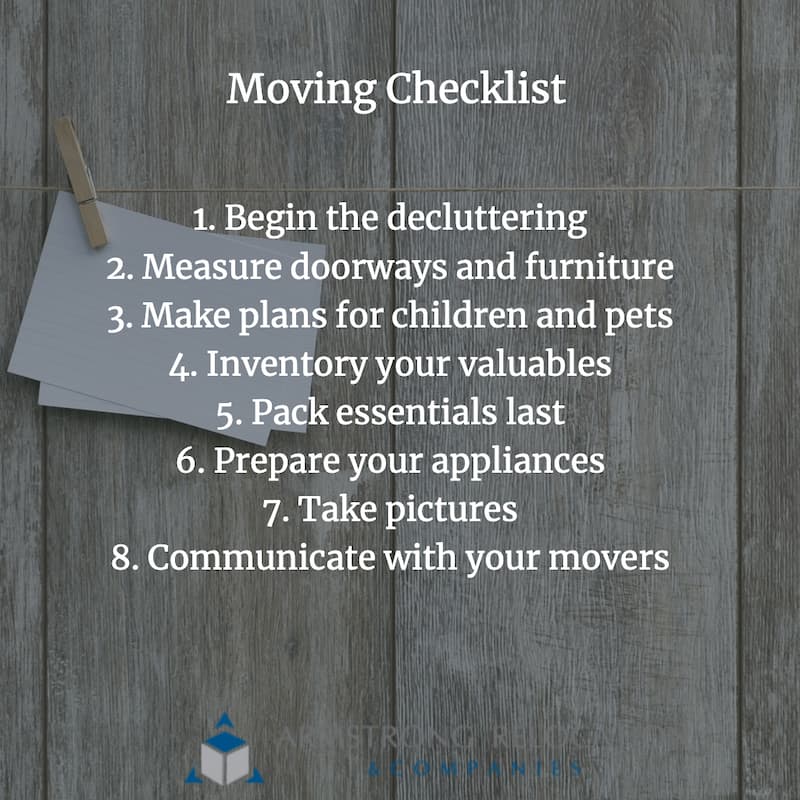 Refer to our moving checklist to make sure you haven't forgotten any tasks, and stay in contact with your movers leading up to moving day.
What is a virtual survey?
A virtual survey allows you to receive an accurate estimate for your move by connecting virtually with a moving representative. To minimize in-person interactions as much as possible during the COVID-19 pandemic, we at Armstrong Relocation strongly recommend virtual move surveys instead of in-person walkthroughs.
What is full-service moving?
Full-service moving allows your movers to handle all aspects of the move for you. We'll coordinate everything to make sure your belongings get to your new home in pristine condition, including storing items as necessary.
What if I have to move into temporary housing first?
If you are moving into temporary housing first, Armstrong Relocation will move you out of your home and help you get settled into your temporary residence. We can deliver the items you'll want immediately to your temporary space and store the rest until you are ready to move to your final destination. When it is time to move into your permanent residence, we will transport all your belongings into your new home.
Can my movers reinstall my moved appliances and electronics?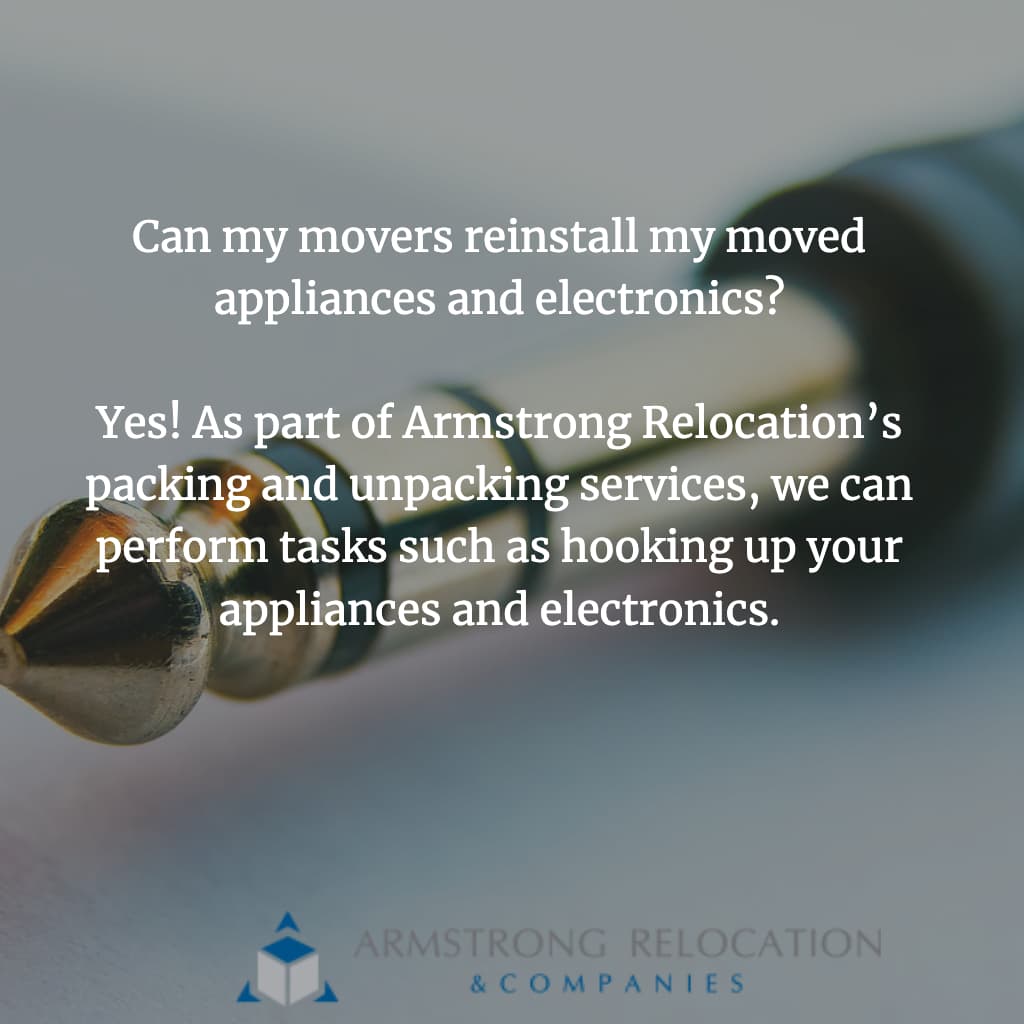 Yes! As part of Armstrong Relocation's packing and unpacking services, we can perform tasks such as hooking up your appliances and electronics.
What is valuation coverage?
Valuation is the level of liability on your carrier if anything happens to your items while they are in the care of your movers. Valuation coverage is NOT the same thing as insurance. If you are moving with Armstrong, you can contact your Move Coordinator with any questions about your valuation coverage.
Am I protected against loss or damage while my goods are in transit?
Yes, but which valuation plan you choose determines the amount of protection against loss or damage you have while your goods are in transit.
Do you offer insurance on my property?
We offer valuation coverage for your property while in our care, but valuation is not a type of insurance. See the questions above for more information about our different valuation options and the amount of protection each plan offers.
What do I do with high-value items?
Your high-value items are the ones valued at more than $100 per pound. High-value items may include jewelry, china sets, antique furniture, designer clothing or rare collectibles. Armstrong Relocation will give you a High-Value Inventory form to list each item that qualifies.
On moving day, you and your driver will sign the High-Value Inventory form, and you will keep a copy. When your items are being delivered, you will go through your High-Value Inventory again and verify their condition, noting any exceptions on the sheet.
How do I move my plants?
We unfortunately cannot move plants on your behalf. You will want to make arrangements to move your plants in your vehicle.
We also cannot move other perishables, such as produce.
What about moving frozen foods?
We cannot move frozen or refrigerated foods, so you should consider disposing of these items before the move or transporting them in your vehicle.
Additionally, we recommend emptying out your refrigerators and freezers and leaving the doors open at least 24 hours before they are moved to prevent any mold growth.
What should I know about the pick-up and delivery dates?
Double-check that your mover has listed the specific date or spread of dates on your order for service and bill of lading. Ask for any vague timeframes, such as "in a couple weeks," to be changed to specific dates on your bill of lading so your delivery is timely.
Have other questions? Call Armstrong's relocation experts at 800.288.7396.