Blog
7 Tips for Moving with Plants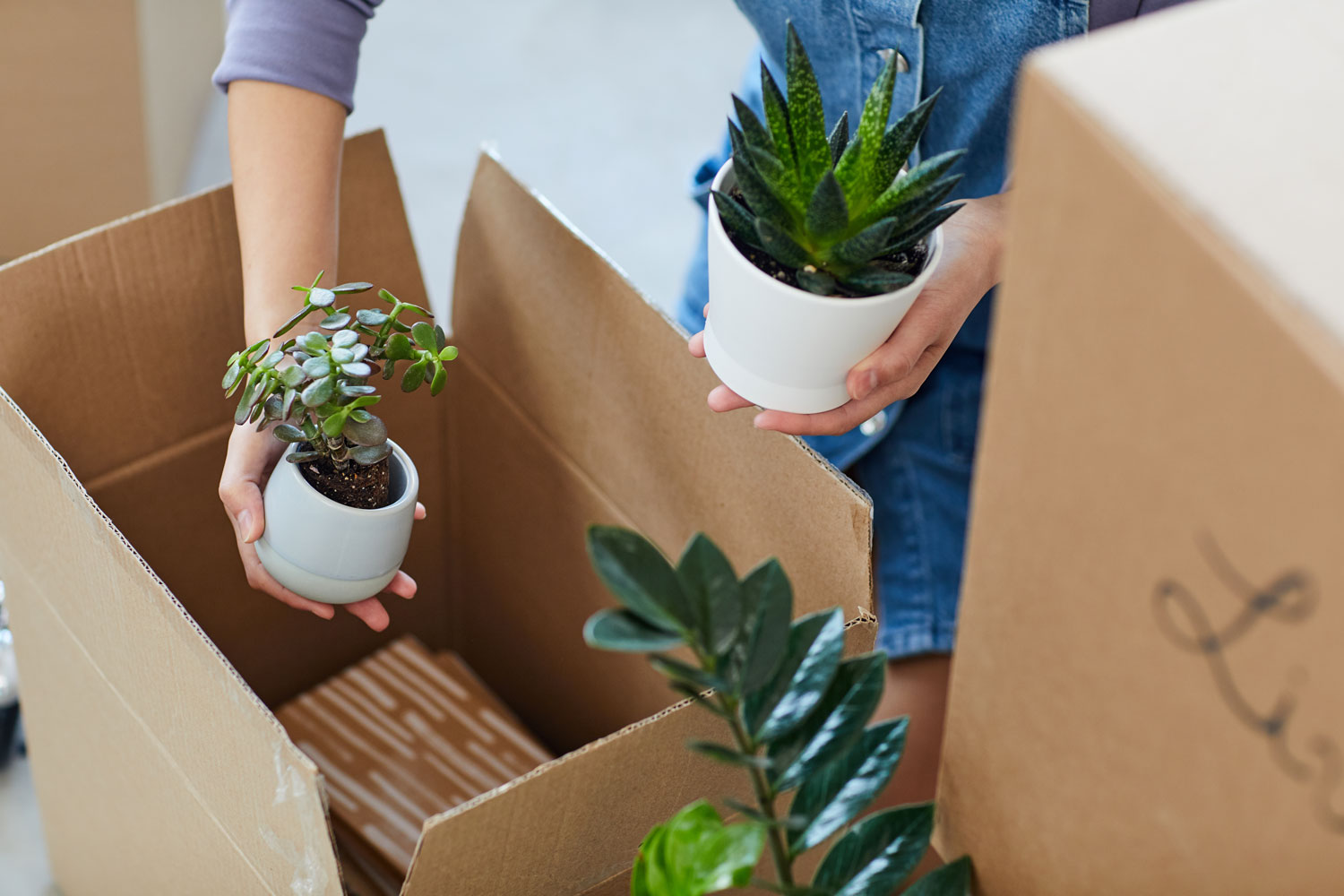 For those who don't have a green thumb, keeping a house plant alive can be a daunting task, let alone moving with plants.
Whether moving up the street or to a different city, county or state, these tips for moving with plants will ensure your plants make it to your new home safely, and your TLC goes unwasted.
Determine how you move your plants
Depending on the distance of the move and the season you are moving to will influence how you will move your plants. Remember that plants are living organisms that need water and sunlight and are affected by weather conditions.
If you plan to hire or have hired a moving company, contact your move coordinator to understand their policies. Well+Good suggests many companies will not move your plants or may require a disclaimer.
Even if your moving company moves your plants for you, experts suggest keeping them in the car so that you can protect and access them more easily.
Incorporate plant care in your moving checklist
Regardless of where you relocate, the seemingly never-ending to-do list will inevitably miss a task. Be sure plant care makes it on your before, during and after the move checklist to ensure they arrive at your new house successfully.
According to Martha Stewart, preparing your plants for the move should start about a week before your move date. Because plants are living, breathing items, plant care should be high on your after-the-move checklist.
Understand the rules
Before you begin preparing your plants for the move, if you are considering a move across state lines, make sure you do your research and contact the necessary parties.
Some states require a quarantine period for specific plants, while others may implement specific restrictions to protect their local ecosystem.
To be sure, the National Plant Board provides updated regulations per state. You can always contact the U.S. Department of Agriculture if you can't find what you need there.
Prepare your plants for the move
Once you've received the green light on your plants, be sure you have all the necessary supplies. Depending on the size, quantity and type of plant, the following are most commonly used to protect your plants:
Cardboard boxes that are tall enough to protect the entire plant.
String or twine to hold branches in place.
Paper bags to cover the pot of the plant.
Newspaper or tissue paper for extra padding and weather protection.
For moves that take longer than a day or occur during high heat or extreme sun, Well+Good suggests soaking your houseplants that require regular watering in the sink a few days before packing. How you decide to water your plants, the key is to keep the roots damp by ensuring your soil is moist enough to last through the trip, especially if your plants are not accessible.
Experts at Martha Stewart also recommend replacing old soil to provide extra nutrition to your plant during the move. Doing so can also ensure any existing bugs are not transferred to your car or other nearby items.
If you are concerned about your pots breaking, consider taking the opportunity to replace old soil by also repotting your plants in plastic containers.
Protect your plant with proper packing
For an up-the-street or around-the-corner move with small plants, packing is quite simple. Place your plants in open cardboard boxes, cushion the sides of the pots with newspaper to reduce jostling and put the box in a secure place in your car.
For longer moves, packing plants would still involve cardboard boxes and newspaper, though there are extra tips to consider.
Save the final packing of your plants for the last minute. By doing so, you can ensure they are still exposed to the necessary sunlight while being more accessible to water. If you cannot wait, leave the lids open as long as possible. Regardless, be sure to label the box with "this side up" and the plant type.
If you are moving your plants on a cold day, keep them warm by covering the entire plant in newspaper. One easy method from Martha Stewart: create cones of newspaper that cover the top of the plant to the middle of the pot. Before going outside, place the cone over the plant and secure it with tape.
You can also use the coning method to protect likely-to-shed plants on extremely windy days or delicate plants like orchids.
Finally, for plants with larger pots, The Sill recommends taping cardboard over the soil to prevent spillage.
Care for plants during the move
Once you've packed the car and secured your plants, you're ready to go. While moving to the new location, treat your plant as if it were a small pet. While you're on the road, keep your plants hydrated and protected from harsh temperatures.
If you take a short break on a hot day, crack your windows and park in the shade. On a warm day, turn on the heat for a few minutes and park in the sun. When you stop overnight, bring your plants into the hotel.
Provide immediate aftercare
Once you have arrived, prioritize bringing your plants inside and unpacking them. If you cannot fully unpack your plants, at least open the lids and check if they need water. If they are sun-thriving plants, set the partially or fully unboxed plants in sunlight.
As your plants adjust to their new home, Martha Stewart suggests it is normal for their leaves to fall off or wilt.
Be patient, provide them with the same TLC as before, and they will return to normal before you know it.
Whether moving across the street or the country, The Armstrong Company can get you where you need to go. Our full-service approach ensures that every detail of your relocation is taken care of, with customized plans for every customer. Learn more about our residential moving services by calling 800.288.7396 or requesting a free quote online.