Blog
Sustainable Ways to Rid Your Office of Unwanted Furniture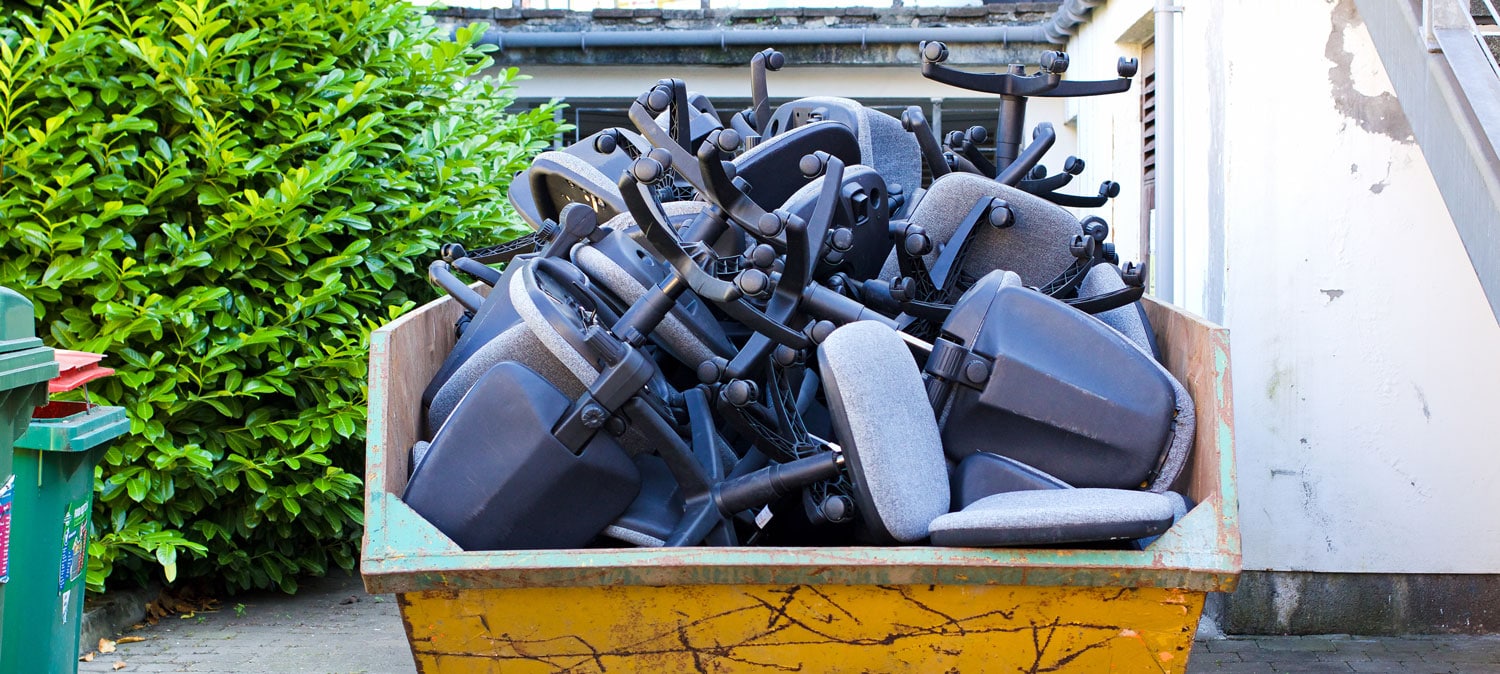 The United States has a problem with furniture waste.
The U.S. generated 12.1 million tons of furniture waste in 2018 — 80 percent of which went to a landfill, according to the Environmental Protection Agency. Office furniture made up the majority of that waste, accounting for around 8.5 million tons.
When you have furniture that you need to toss, looking up your local landfill may seem like the quickest solution. But in doing so, you may be missing out on ways to minimize your impact on the environment while saving some money.
Whether downsizing, remodeling, relocating or decommissioning, Armstrong Relocation – Raleigh is here to help you get rid of your unwanted office furniture in a sustainable way. Here are five environmentally-friendly alternatives to sending those office chairs to the dump.
Option 1: Sell
First, take inventory of the furniture you no longer need. Pay particular attention to the condition, age, quantity and brand of your items. If your pieces don't show many signs of wear-and-tear, you may be able to save the environment and some cash by selling them. As a business leader, you probably don't have the time or energy to track down buyers on your own, so Armstrong Raleigh provides furniture and asset resell services to help. We also offer refurbish services to make it that much easier to find new homes for your old furniture.
Option 2: Relocate
If your company has multiple locations, you may be able to keep your furniture in the family by unloading it to another office. Examine the furniture and equipment at your other locations to determine what each one needs. For example, is your Midwest office expanding and down a few desks? Start preparing for an exchange. Your partner office quickly fulfills its need for furniture and you know your items will be in good use, rather than sitting in a landfill. Tag in the Armstrong Raleigh team to make this process as efficient as possible. Our experts have large-scale decommission experience and can help you relocate your furniture with ease.
Option 3: Donate
You can find owners for even the most well-loved furniture at a donation site, and in the process, you may be able to lower your tax bill. By donating quality furniture to an approved nonprofit, you may qualify for a tax deduction. The Internal Revenue Service stipulates that your donations must be in good condition, itemized and given a fair market value to qualify. Before you send your furniture to the trash, talk to your Armstrong coordinator about our tax-benefit donation services. We can navigate the world of charitable-donation regulations for you while you focus on your business.
Option 4: Store
If you're not ready to get rid of your office furniture for good, you can take advantage of Armstrong – Raleigh's short-term storage solutions. With our help, you can take your time to lay out your new office. While you decide which furniture belongs and which doesn't, your assets will stay secure and accessible. When the time comes to move your furniture into the office, Armstrong Raleigh can transport, install and reconfigure your items for you.
Option 5: Recycle
As a last resort, you can dispose of your furniture by recycling it. Your local recycling center will likely accept the raw materials of your office items, such as wood or metal. You can often recycle your old electronics as well, so look for an e-waste recycler near you before you throw them in the trash. Properly breaking down furniture for recycling is complicated, so leave it to the professionals. Armstrong – Raleigh provides recycling services as a sustainable way to rid your office of junk.
Lending a Helping Hand
At Armstrong – Raleigh, we're not just interested in moving furniture. We provide a range of services to help you decommission your space while preventing your unwanted belongings from ending up at a landfill. Together, we can do our part to reduce furniture waste. Give our experts a call at 919.425.9853 or request a free quote online to get started.