Blog
Top 6 Biggest Mistakes Companies Make When Moving Offices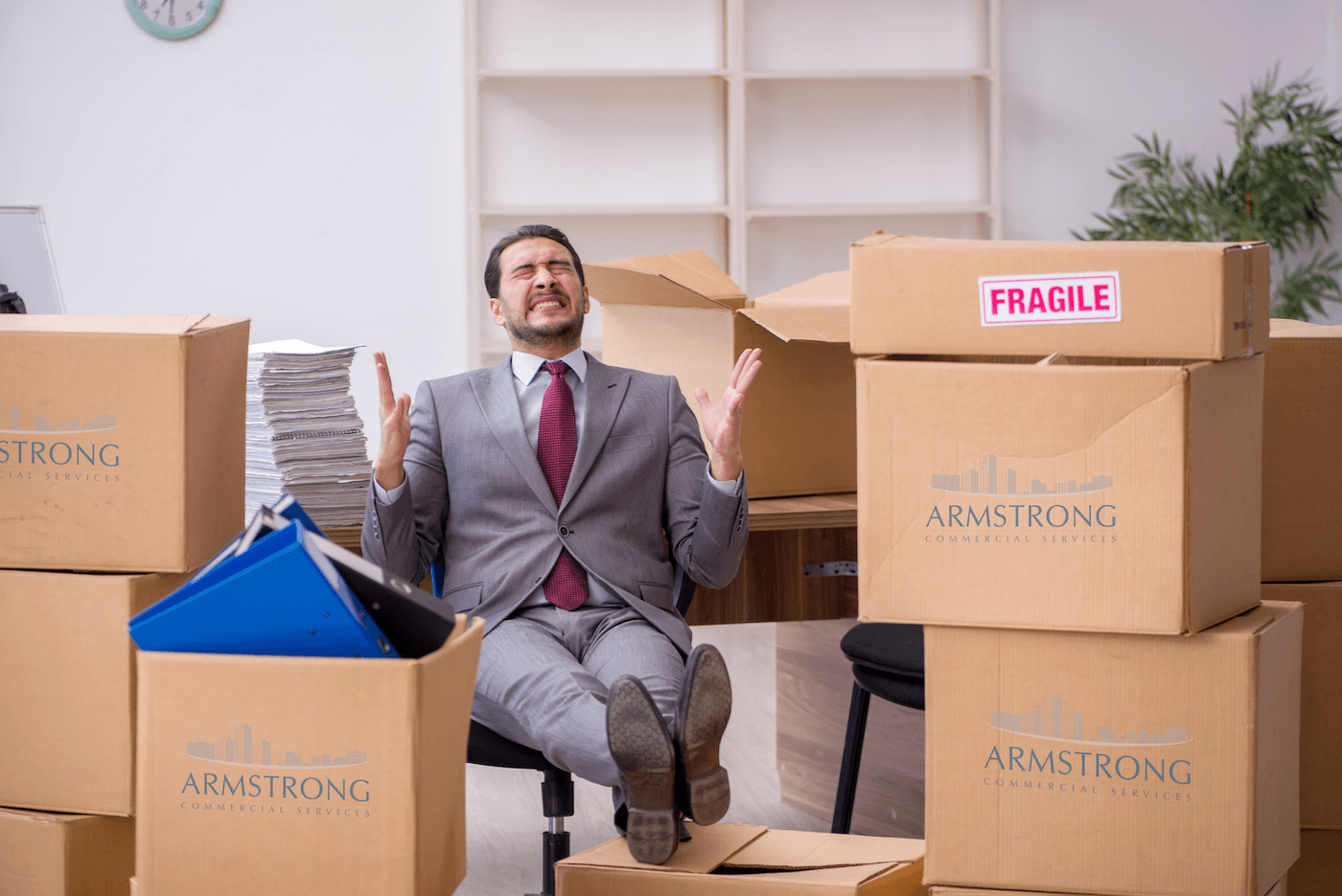 Whether moving your office across the street or across the state, the process can be a time suck that quickly consumes your company dollars, time and energy.
It's easy to feel stressed or overwhelmed at the prospect of moving your people and your space while minimizing downtime for customers. But with proactive planning, your office move is sure to be a success, no matter how challenging it may seem.
Ensure your move is smooth, seamless and stress-free by avoiding these six costly mistakes.
1. Hiring labor-only movers
Labor-only moving companies don't have their own vans or drivers. They can help load items into your rental truck on moving day, but you will be responsible for the rest. Though this might work well for a small residential move, office moves require more planning, assets and services.
Full-service moving companies will support your move from start to finish, from the initial budgeting to helping you get settled in your new office. By enlisting professionals to coordinate the details of your move, you will free up your team to focus on their day-to-day work.
2. Overlooking the technology
While managing the other aspects of your move, it can be easy to overlook your technology and equipment. For most businesses, uninstalling the tech is not as simple as unplugging a few cords. Network downtime can be costly for you, your business, your team and your customers.
Ask your IT staff to create a plan to transfer your technology and equipment to the new office. If you don't have an in-house IT team, a full-service moving company can handle this process, including finding places to sell, donate or e-recycle old technology.
3. Moving unused items
Don't just pack up everything blindly. Moving offices is the perfect time to get rid of those old marketing materials sitting in your storage closet, the outdated office supplies you will never use and the broken equipment that's not worth fixing.
If requested, some full-service moving companies can help you find buyers for the assets you no longer need. Or, they can support you by sourcing charitable organizations accepting donations. Consider using your moving company's short-term storage for items you're not ready to say goodbye to just yet.
4. Rushing the timeline
You may be eager to move into your new office, but don't rush the process. Moving offices can take anywhere from a couple of months if you're moving locally to a couple of years if you're building the new space.
Book your moving date immediately, then begin compiling a list of all the to-do items and deadlines you need to keep top of mind as the day approaches. Develop a plan that allows you to gradually transition into your new space so your team experiences as few disruptions as possible.
5. Not protecting the floors
If you're not careful, you can damage the floors, doors and walls of your current and future office as you move heavy furniture and equipment. Scuff marks on the wall or divots on the floor may result in deductions from your returned security deposit.
Preserve the condition of your property and avoid last-minute fines by laying down protection around the office. Ask your movers how they protect the building on moving day and level set your expectations upfront to prevent miscommunication.
6. Forgetting the decommissioning
Many commercial leases stipulate that you leave your space "broom-swept," with all belongings removed and damage fixed. Before packing up anything, come up with a sustainable way to minimize the disposal of old items and leave your office in pristine condition.
By avoiding these six common mistakes, you can ensure your move stays on budget and on time, without negatively impacting your business or your employees. With the support of your movers, you can focus on the excitement of the move — and none of the stress.
Let Armstrong take care of the office relocation details, so your team can focus on getting back to business. Get started today by calling 770.368.0368 or requesting a free quote online.