Blog
Office Hoteling: The Cons Explained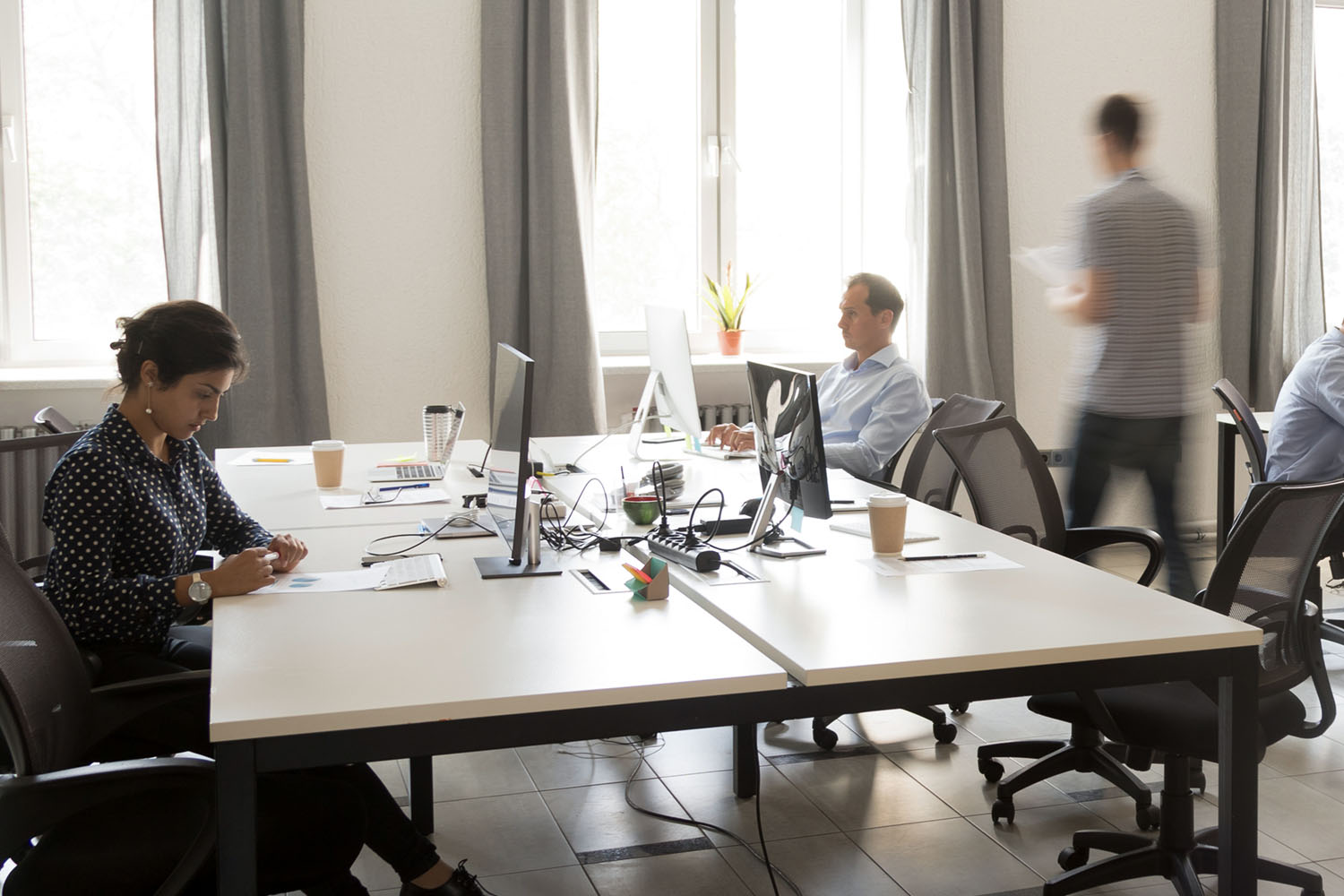 Location, location, location. This timeless real estate adage has taken on new meaning. Today, location is not only where employees work but also how. For business owners or managers, location has become an ever-evolving concern.
From reconfigured office space to remote and hybrid options, the balance of where and how at the workplace has taken center stage. Office hoteling (also known as desk hoteling) is a popular approach for managing office space, but it's now under the microscope. Do the cons of office hoteling outweigh the pros for your business?
What is office hoteling?
In the late 1990s, the now-nationally renowned accounting firm Ernst & Young was finding its footing in Chicago. When two firms decided to merge to form Ernst & Young, it presented a problem of space: where to locate and how to make it financially feasible. Management decided to occupy seven floors in the Sears Tower — with a game-changing twist. In addition to office space for full-time employees, they would create dedicated space for at-will auditors and consultants.
Enter what we know today as office hoteling. The concept works as such: Rather than operating traditional office space with assigned cubicles, desks, or offices, office hoteling creates a flexible workplace through seating reservations, much like a hotel.
Business owners and managers can implement this type of office environment in several ways. There are numerous software products available that allow a company to transform pre-existing office space for office hoteling. The company can also opt to abandon its existing office and rent co-working space from a third party.
The cons of office hoteling
The pandemic became fertile ground for the rise of desk hoteling. After the lockdown period, a full return to the office wasn't entirely feasible. Management and employees both wanted assurance of proper building ventilation, office-space configuration, and proximity to others. Management needed to find solutions quickly, and office hoteling was an ideal fit.
While innovations that solve problems are exciting and transformative, drawbacks are bound to arise. For some managers and employees, the pros of office hoteling — like schedule flexibility, lowered maintenance costs and improved productivity — fall short. Concerns over these cons loom large:
Sanitary workspaces. While managers can hire cleaning services to sanitize workspaces, it's not foolproof. Aside from human error, there may be problems, such as back-to-back reservations that don't allow enough time for thorough cleaning.
Scheduling challenges. Management may struggle to predict how many desks are needed accurately, and reservation software can't anticipate emergent needs. This recurring scenario causes real issues: an employee needs space ASAP for an important meeting, and all desks are reserved. Or, when the employee gets to the office, none of the desks are currently in use anymore. Both scenarios create challenges for the office.
There are real benefits of feeling at home at work. Employees accustomed to having their own space at work can find themselves feeling out of sorts in an impersonal space and transporting personal effects back and forth from a temporary workspace isn't practical.
Company culture. When the workplace is a revolving door, it can detract from the primary company's culture. Traditional office space allows employees to cultivate rapport simply by gathering at the coffeemaker, popping in an office to say hello or collaborating in person to plan events. While employees can try to make up for the lack of proximity by planning desk-hoteling reservations in concert with cohorts, this action isn't sustainable long-term.
Finding a work model that works
When office hoteling cons outweigh its pros, it's time to regroup. The options include returning to traditional office space, perhaps less of it to allow for a hybrid arrangement or setting up a fully remote business. Every business has unique needs, so what works for one won't work for all.
Regardless of which work model management chooses, they must address the company's and its employees' needs moving forward. Employees will need to be notified well in advance of the change. New office space will need to be secured if returning to a full-workweek or hybrid model. Depending on the setup of the current office-hoteling workspace — that is, whether it's located in existing office space or rented from a third party — there may be some heavy lifting involved; that is, management will need to schedule movers for furniture and other office accouterments.
Armstrong Huntsville stands behind that old real estate adage. We know location can make or break your business. When office hoteling isn't a good fit, call us at 256.795.3135 or request a free quote online to learn how our experts can help you get back to work quickly and seamlessly.